Při zvažování, zda koupit svůj oblíbený nápoj v PET nebo skleněné lahvi, nám může pomoci LCA analýza. Co to je LCA?
LCA hodnotí dopady na životní prostředí produktů nebo služeb během jejich celkového životního cyklu.
Analyzuje se vliv na životní prostředí v několika časových úsecích.
První úsek je fáze výroby: těžba či výroba surovin, výroba meziproduktů, výroba obalových materiálů, dodávky elektřiny, tepla a paliv.
Druhá, užitná fáze, je monitorování vlivu na životní prostředí při distribuci z výroby ke spotřebiteli. Zde se analyzuje opět spotřeba elektřiny či paliv.
Třetí fází je způsob ukončení životnosti výrobku, a to recyklací, likvidací ve spalovně či umístěním na skládku.
Rakouská společnost C7-consult, která se zabývá LCA, poskytla výsledek analýzy, která se týká dopadu na životní prostředí v průběhu životního cyklu litrové lahve minerální vody v PET a skleněných obalech.
Analyzovány byly všechny fáze životního cyklu, např. váha obalu při přepravě nebo nutnost čištění před dalším použitím, případně různá energetická náročnost zpracování i recyklace materiálu. Nejnižší uhlíkovou stopu má z tohoto pohledu lahev vyrobená z 50-100 % rPETu, naopak nejvyšší zatížení představuje skleněná lahev o stejném objemu.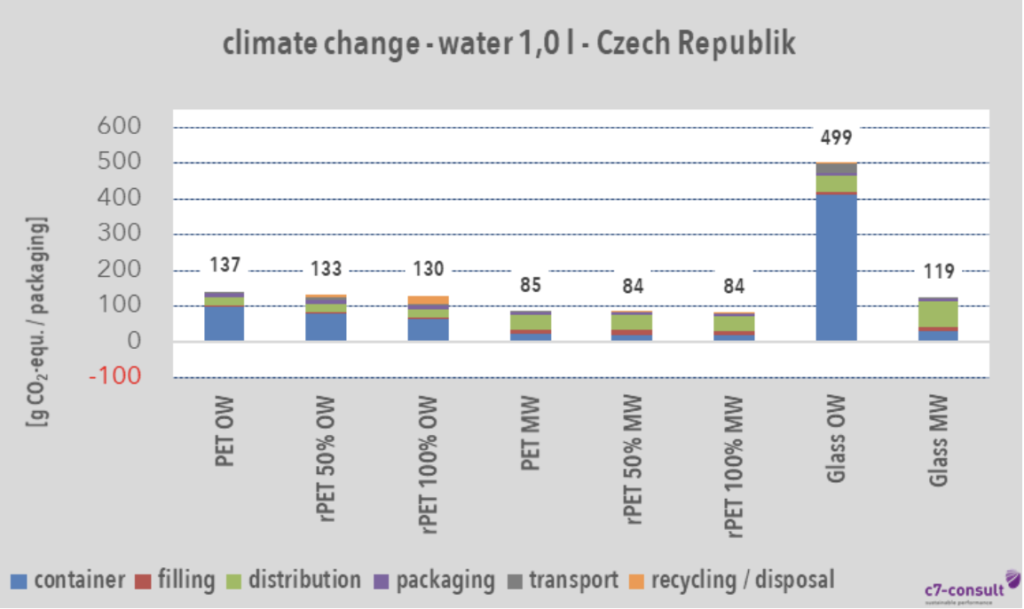 Zdroj: freepik.com